You have decided to install a pergola on your property. You are wondering what you should budget for this project. Above all, you should know that there are several models of pergolas and that they are not all the same in terms of price and quality. Let's take a look at the average budget for a pergola according to the type.
The average budget for a classic pergola
The price of a pergola varies according to its type and structure. The questions you should ask to get an idea of the budget to plan for this adventure include:
What type of pergola do you want to install? A lean-to or a freestanding pergola?
What surface area will it cover?
What material will you choose for the structure? And for the roof?
Will your pergola be basic or have all the options?
Are you going to call on a professional for a bespoke pergola or are you going to purchase a kit?
Does any work need to be done beforehand?
Are you starting to see a little more clearly? Let's now take a look at the standard prices for a traditional pergola (lean-to or freestanding) according to the main material:
aluminium pergola: from €75 to €600 per m²;
wooden pergola: from €100 to €400 per m²;
PVC pergola: from €100 to €600 per m²;
wrought iron pergola: from €100 to €600 per m².
If you decide to have it installed by a professional, you will have to add the installation cost, which will vary between 50 and few hundred euros. Aluminium pergolas are the most modern. They are also the most durable structures over time and require the least maintenance and offer the most options. Here is a comparison between wall-mounted and freestanding pergolas:
classic lean-to aluminium pergola: from €75 to €450 per m²;
freestanding aluminium pergola: from €90 to 600 per m².
Freestanding pergolas are thus a little more expensive. They have the advantage that they can be installed wherever you please because they are supported by four legs.
Bioclimatic pergolas: the preferred pergola
They need no presentation! With its roof fitted with adjustable louvres, the bioclimatic pergola is the favourite in France and Europe. This specific concept enables you to enjoy this outdoor space year-round. By controlling weather conditions, you not only protect yourself in summer from the sun's rays, but you can also regulate the heat by ventilating it as you please. During the winter, you protect yourself from inclement weather while preserving natural daylight. Whether it is wall-mounted or freestanding, it will have the same equipment and options available.
The louvres are adjustable to the nearest degree either manually or motorised (via a remote control or your smartphone). A rain, wind and snow sensor can be installed to close the roof automatically.
Controlling the elements enables you to save energy and thus reduce costs. A bioclimatic pergola mounted against the wall of your house will decrease the indoor temperature in summer, thus reducing the use of air conditioning. In winter, the slightest ray of sunshine will reflect and provide a few welcome degrees! To have a bespoke bioclimatic pergola installed, allow €500 to €1000 per m². You will be able to choose the orientation of the louvres (horizontal or vertical), as well as a wide range of options that will make this living area more than comfortable. You can add, for example:
a skylight;
an oversized XL roof;
motorised LED lighting;
motorised blinds for greater privacy;
a picture window...
Of course, the installation of a bioclimatic pergola entails a certain cost. However, the purchase of this addition will be an incomparable and durable investment. And you will benefit from its advantages all through the year!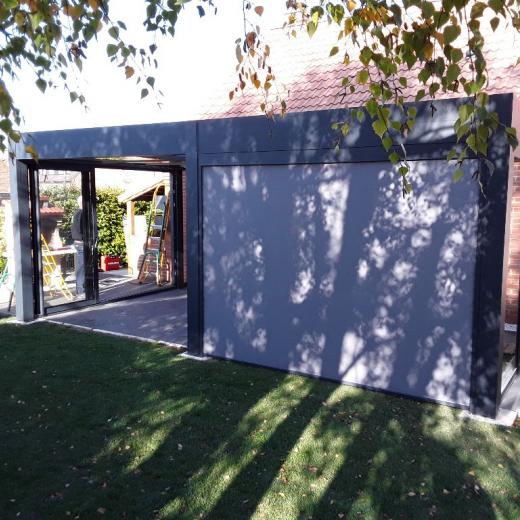 Very beautiful pergola, quality materials, careful installation and detailed finish.
Jean-Luc B.
VERCHAIN MAUGRE (North of France)
Choose AKENA to build your pergola
A large distribution network