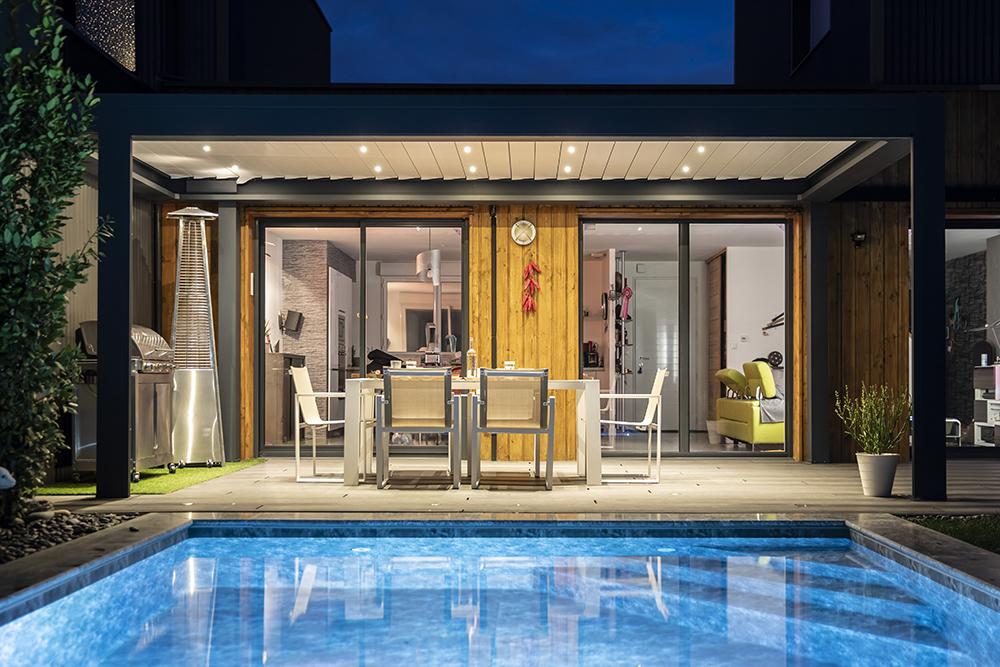 So, now you've made your choice! You have gathered information about the different types of pergolas and you've decided on a bioclimatic pergola! They perfectly combine quality and contemporary design. You have found the ideal spot in your garden to set it up. All you need to do now is to choose the materials, options and accessories. It's not easy to choose among the many possibilities that are available to you!  To help you see more clearly, we'll give you some useful information to choose your bioclimatic pergola.
What is a bioclimatic pergola?
Before going to the heart of the matter, let's remind ourselves of what a bioclimatic pergola is.
In recent years, more and more people have been attracted to this type of pergola. In a way, we could say that it is the cousin of the traditional fixed pergola. Whether wall-mounted or freestanding, its particularity lies in its louvred roof. These louvres are adjustable. They can thus protect users from bad weather or enable them to enjoy the sunshine as they please. Even more practical, in the case of a pergola that is adjacent to the house, the louvres can regulate the indoor temperature by allowing more or less heat to enter. So, they enable you to save energy.
What materials should you choose for your bioclimatic pergola?
Like for classic pergolas, bioclimatic pergolas come in several models. If you call on the services of a builder of bespoke pergolas, you will have the choice among several sizes and different types of materials and accessories.
What materials are used for the posts and beams of your pergola?
Thanks to its exceptional durability, aluminium is the preferred material. It is lightweight and attractive and is unaffected by bad weather and seasonal change. Aluminium enables you to customise your pergola right down to its colour. Anthracite grey, frosty black, white, textured beige, and many more... To enhance your new living space, aluminium offers a wide range of modern colours.
What type of roof should you choose for your bioclimatic pergola?
Because the essential element of a bioclimatic pergola is its roof, which consists of motorised louvres, its quality is primordial. The choice of a powder-coated 100% aluminium roof, as well as the framework, is a priority. You will find both single- and double-wall slats. More than the length, it is the width that is a sign of quality. The rotating mechanism is also an important element to take into account when designing your pergola. Subject to frequent friction and rotation, the sturdiness of the mechanism is synonymous with its durability. The orientation of the louvres and the possibility to adjust them to the nearest degree is also an essential point to comfortably manage the sunlight.
What additional equipment exists for bioclimatic pergolas?
Various accessories and options will improve the comfort of a bioclimatic pergola.  In addition to the louvres that can be installed in parallel or perpendicularly, various equipment is available to make this new addition a true living space.
Here are the most popular options:
Aluminium louvres that automatically adapt to the weather thanks to a wind or rain sensor,
The laminated glass skylight,
Motorised blinds that protect from the sun and provide greater privacy,
LED spotlights or strips, which are available in various colours, 
Picture windows, which protect from the wind and rain without transforming your pergola into a veranda,
Heating, to be able to enjoy your new space in any season...
Which bioclimatic pergola to choose according to its use
A bioclimatic pergola can be used for many reasons, depending on both the location and your wishes.
When wall-mounted, and if its size is limited, you can use it like a covered patio or awning. When the louvres are closed, it will offer you shelter against bad weather and enable you to settle down outdoors a little more often. Adaptable to both the climate and the season, it will be just as appreciated in early spring, when the slightest ray of sunshine is welcome, as in mid-summer, when we are in search of shade above all. Its benefits will also be felt in the house, because you can manage the sunlight that strikes the windows or glazed doors that open onto the pergola.
A slightly larger bioclimatic pergola will surround a patio, where you can install a garden lounge. Here too, the possibility of going from an open roof to a closed top will enable you to leave your lounge accessories, like floor cushions or rugs, outdoors longer. You will thus create a true cosy atmosphere, with no worries about damaging the fabric. This is even more true when your adjustable louvres are linked to a weather station, which will close them automatically during rainy weather, even when you are absent.
A bioclimatic pergola also gives you the possibility of a summer kitchen. The closing roof will shelter your electrical kitchen appliances. You can then install a full kitchen, with a fridge, cupboards for your dishes and condiments, and do more elaborate cooking than a simple barbecue.
A pergola can also be at a distance from the house. In the garden, it creates a separate patio, like a modern gazebo, that adapts to the weather. It is also appreciated near a swimming pool, especially to shelter sunbeds and to enjoy the sun or shade as you wish. It can also provide a roof for an outdoor shower, for example.
Finally, a bioclimatic pergola is also appreciated to protect a car. Whether remotely controlled or automatic, it enables you not to have to get into an overheated car in midsummer. All this while taking advantage of welcome warmth during colder seasons.
A professional will be able to help you decide which materials and accessories are more adapted to your wishes, needs and the future use of your pergola.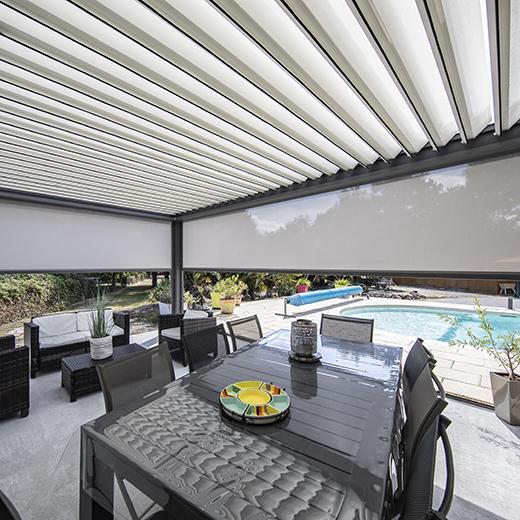 Choosing a bioclimatic pergola according to your technical criteria
The first thing to do when choosing the best bioclimatic pergola for you is to study the location. To be really useful, the structure should be installed in a place where it provides real value year-round. In general, it will be installed against the sunniest wall of the house and, if possible, away from prying eyes. A bioclimatic pergola can be made of various materials. Even though wood and iron are very attractive, they also require a lot of maintenance. To reduce the need for cleaning the installation, aluminium is usually preferred for a bioclimatic pergola. As for the louvres, you should also prefer an aluminium cover, which is appreciated for its durability and appearance. Even though it is possible to choose a retractable canvas cover, this solution is less versatile than adjustable aluminium louvres.
Choose a bioclimatic pergola according to its comfort and design
Beyond technical considerations, the choice of a bioclimatic pergola must be made according to the required comfort. Those who wish to make things easier for themselves will prefer a structure with motorised adjustable louvres. This way it is possible to control the opening and closing of the roof by a simple click. 
Other equipment will increase your comfort, including glazed sliding panels that can close the sides of the pergola. You can also choose to install a misting system, heating, lighting, a sun blind or even side roller shutters. The last selection criteria: the design of your bioclimatic pergola. Although most structures have a contemporary style, it is possible to choose another finish. The structure offers a wide range of shades, colours and even shapes: it provides the opportunity to choose the bioclimatic pergola that suits you best.
A few of our bioclimatic pergolas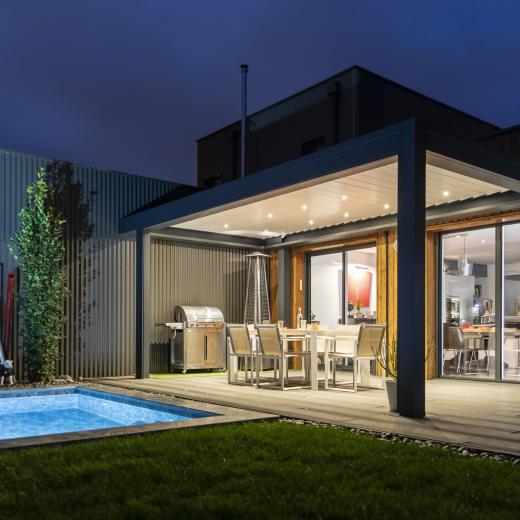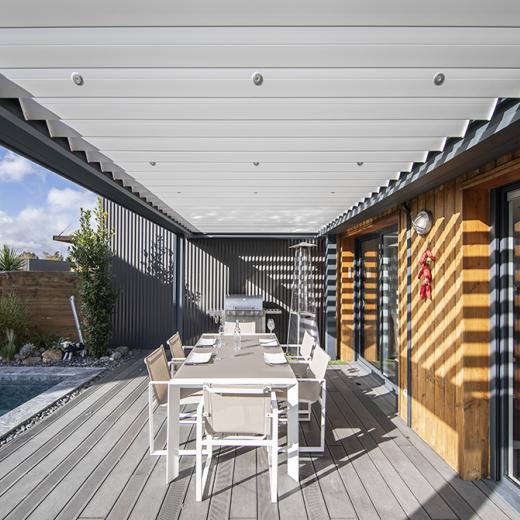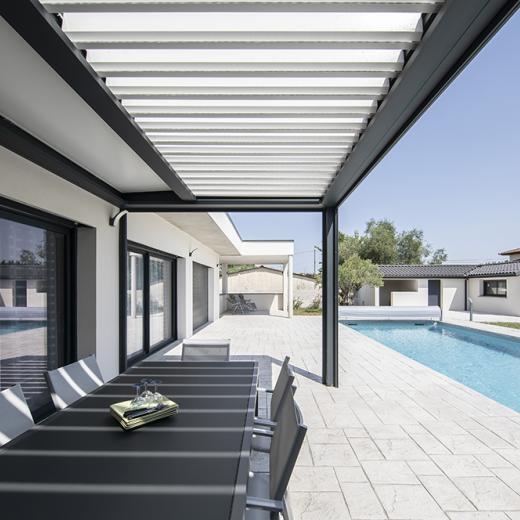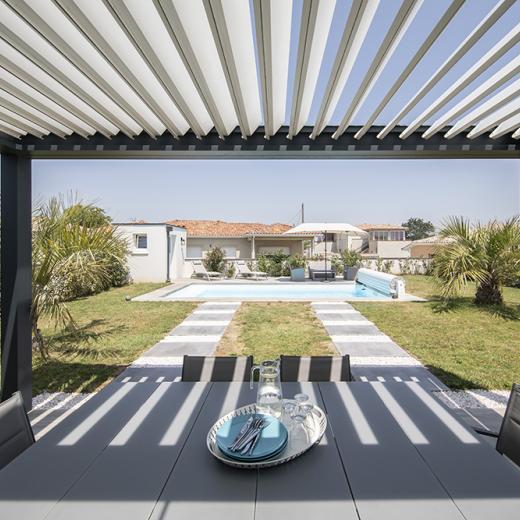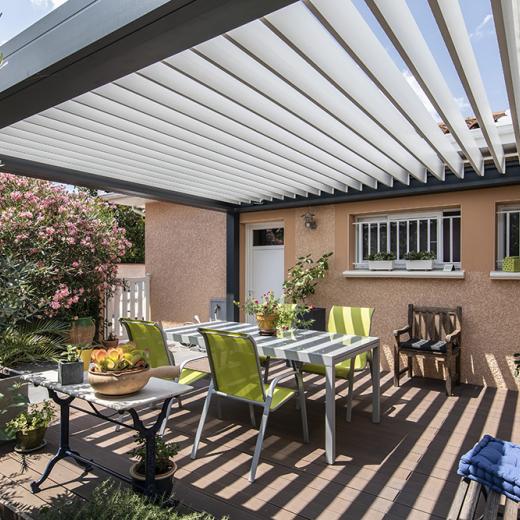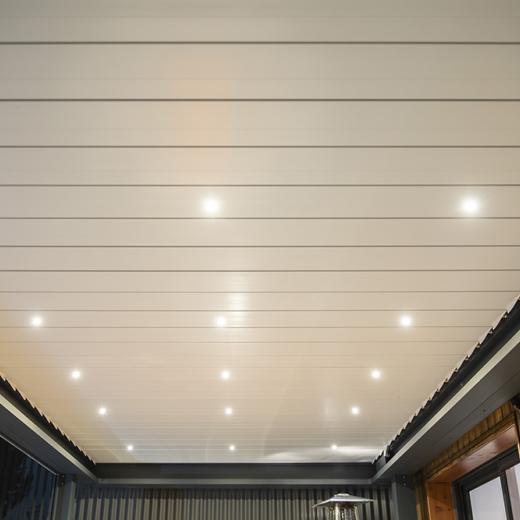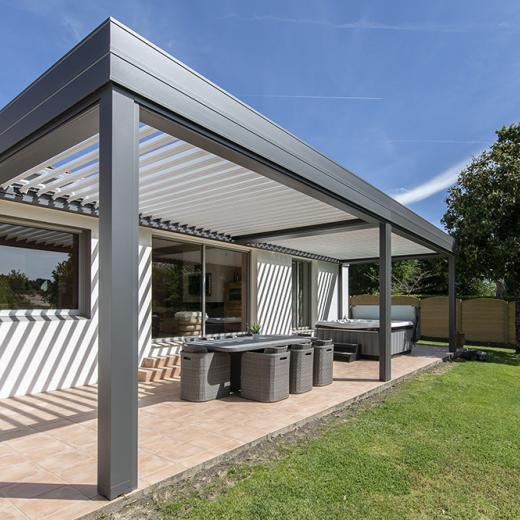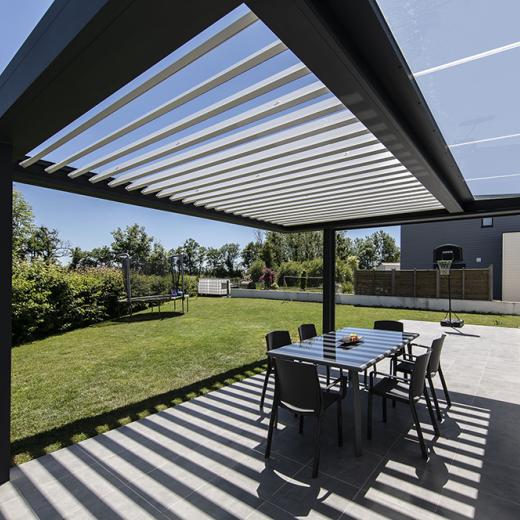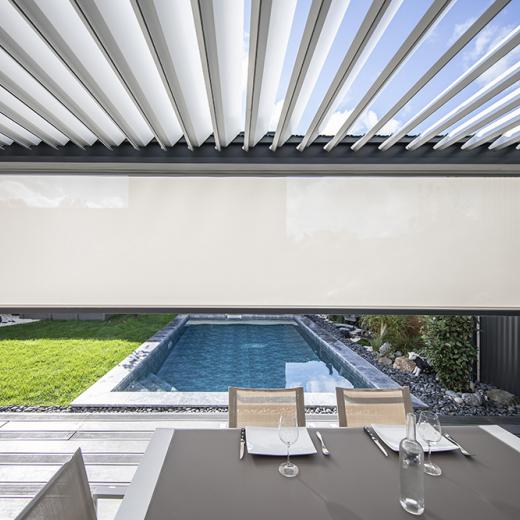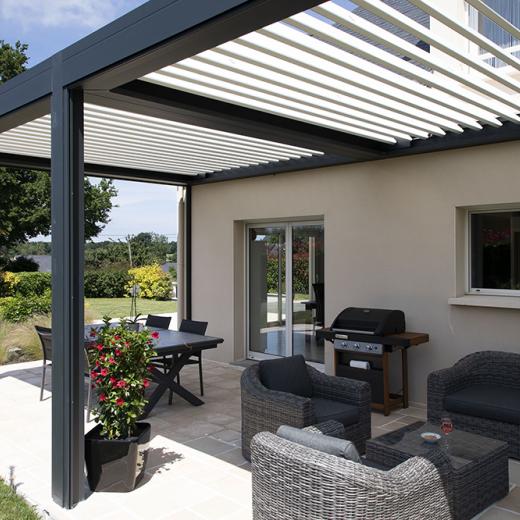 Retrouvez nos autres conseils
Aucun résultat ne correspond à votre recherche