A patio is often a place we dream of when we purchase a property or choose a rented residence. But a patio with full southern exposure can quickly become unusable in summer. Solutions exist to create shade in order to get the maximum benefit. You have a large choice among garden umbrellas, blinds, shade sails and pergolas.
Comment s'abriter du soleil sur une terrasse ?
How do you install a shade sail on a patio?
A shade sail requires wall attachment points. You may also need to install one or two stakes in order to keep the bottom of the sail in place.
Shade sails come in various sizes, which enables you to install one on even the smallest patio.
Even though today's fabrics are increasingly resistant to sun and rain without fading, it is nevertheless a good idea to fold away your shade sail during windy weather. However, entirely automatic solutions exist that avoid the need for you to roll up and remove your shade sail. They are particularly suited to the windiest regions.
What garden umbrella should you choose to shelter from the sun?
The most economical means of creating shade remains the garden umbrella. You can choose among the most classic straight types that are positioned in the centre of a table or above sunbeds, for example. They provide welcome shade and can be easily moved to turn with the sun or to create new shady areas.
Extra-large umbrellas can entirely cover a small patio or at least a garden lounge. They ensure that everybody is protected, at least during the hottest hours of the day.
Offset umbrellas, which are often quite large, enable you to move around. You can thus easily shade a table, even if there is no centre hole for an umbrella.
There are also shade sails on legs, which are between a garden umbrella and a traditional shade sail. In any case, you must remember to close the umbrella during windy weather and to reposition it to follow the sun as it moves around the house.
How do I choose the right blind?
If the patio is adjacent to the house, an awning is also a good way to create shade.
In order to choose the right dimensions, you should add one metre of length and width to the dimensions of the plot you wish to protect to ensure that the shade really covers all your patio.
Certain blinds are fitted with sensors that close them automatically during very windy weather and unfolds them when the sun is at its strongest in order to create shade, even for the interior of the home.
You will also have to choose the type of fabric:
Polyester, the most economical, but also the most fragile,
Waterproof acrylic,
Micro-perforated fabric, which lets water through.
Of all these solutions, the pergola remains the most sustainable and resistant. Moreover, thanks to the addition of side panels, your patio can be transformed into a new room that you will be able to use much longer during the year.
How can you create shade under a pergola?
Whether bioclimatic or more classic, the pergola has a roof that protects you from the sun's rays. It can be built of various materials that will allow more or less sunshine to pass through.
The bioclimatic versions adapt to the weather conditions as well as to your needs for sunshine and thus remain relevant year-round.
You can also choose a retractable fabric roof that will let in the air but filter UV rays for your greater comfort.
You can also choose a decorative trellis that will create shade as if you were under the branches of a tree, for a poetic atmosphere that evolves with the changes in daylight.
Finally, to avoid being bothered by the sun at the end of the day, you can add fabric side walls to your pergola. They will create a real wall against the sun's rays.
Don't hesitate to contact us to assist you with your project.
A few of our bioclimatic pergolas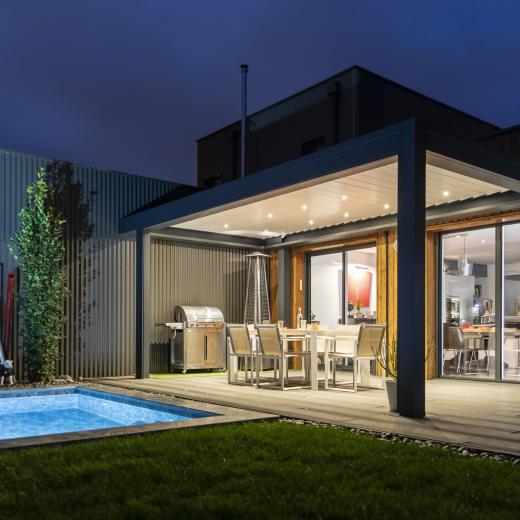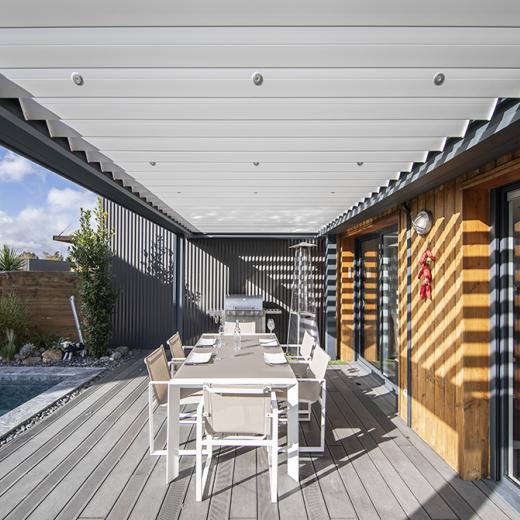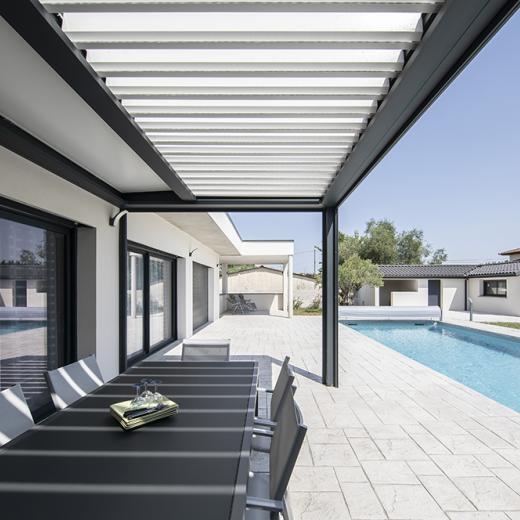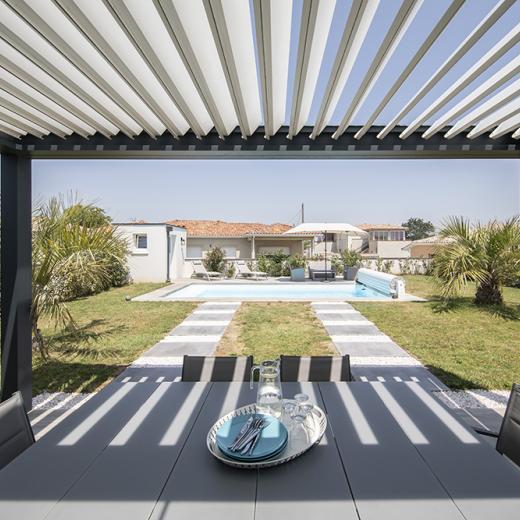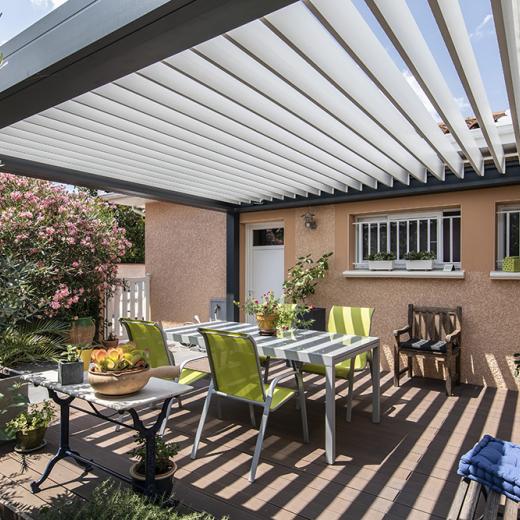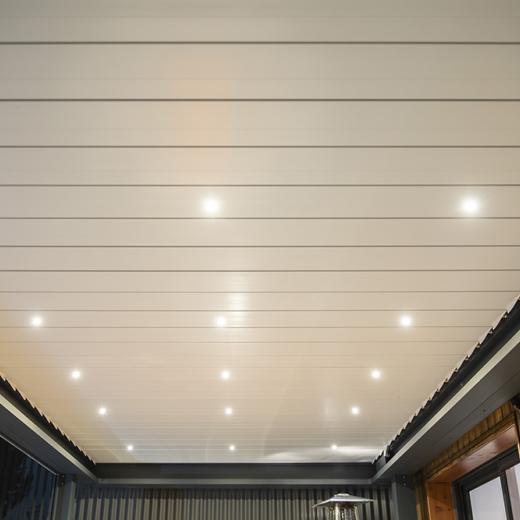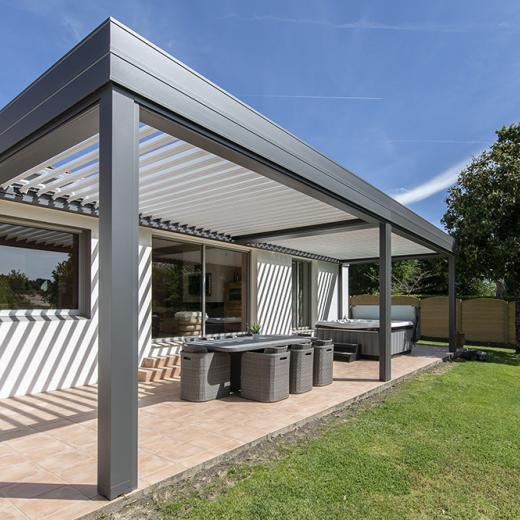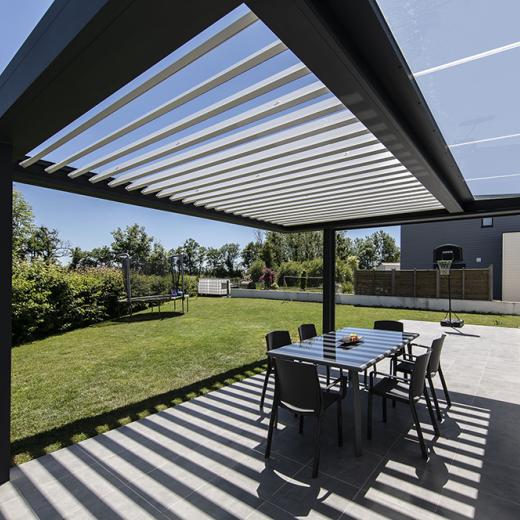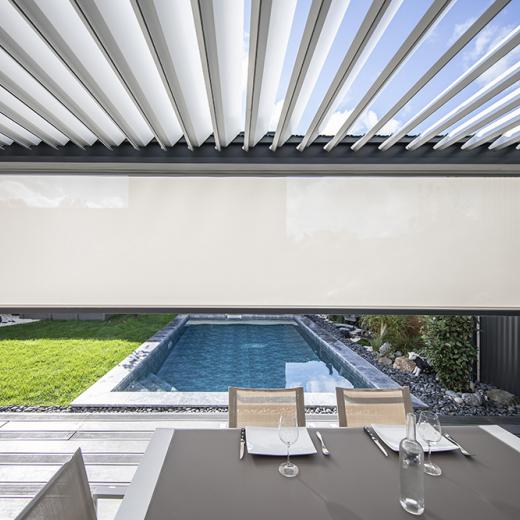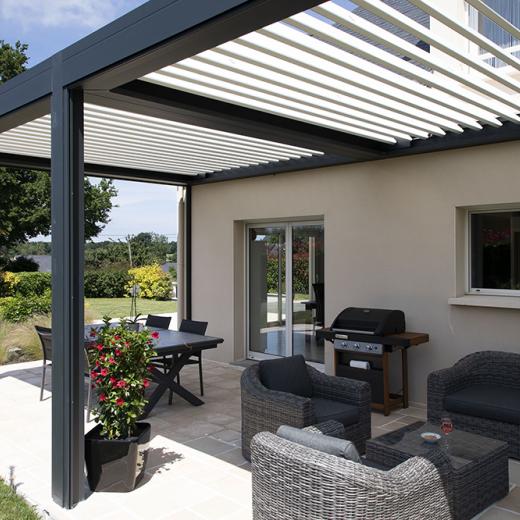 Retrouvez nos autres conseils
Aucun résultat ne correspond à votre recherche