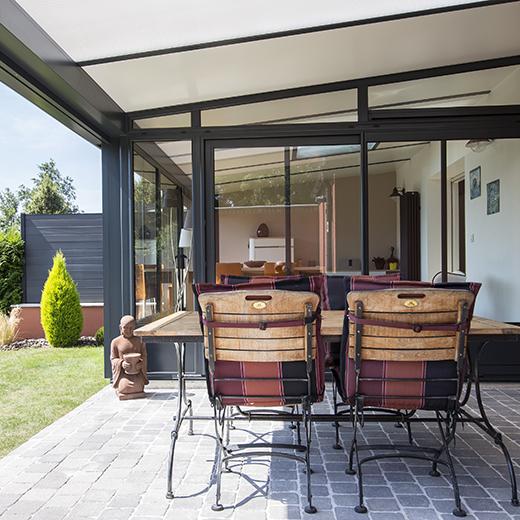 It is not always easy to choose between a porch and a bioclimatic pergola. Even though both these structures have similarities, they also have particularities that make it easier to choose. See our recommendations to help you choose.
A porch: a permanent structure that has certain limits
Like a bioclimatic pergola, a porch shelters an exterior patio. In the shape of a small, protruding roof, this type of structure protects from bad weather while remaining open on the sides. In the end, it offers the same advantages as a lean-to pergola: stylish structure, sheltered area and opening onto the exterior. Despite these, a porch has one major inconvenience: its fixed roof. Whether it is covered with reed screening, PVC panels or even a fabric canopy, the cover cannot be modulated. The consequences? It is not possible to adjust the sunlight, thus limiting the possibilities offered by this exterior space.
Bioclimatic pergola: a versatile installation
In contrast to a porch, a bioclimatic pergola has an adjustable roof. Equipped with adjustable louvres, this type of installation enables you to easily regulate incoming sunlight. Using a handle or a remote control for motorised models, it is possible to open and close the louvres in order to let in the daylight or to remain in the shade. An aluminium bioclimatic pergola can also be connected to a weather station. Thus, the louvres open and close automatically, without any human operation, according to the weather. This solution is even more useful to enable you to get the benefit of your exterior, even more so as a bioclimatic pergola can be completed with a range of equipment: heating, misting system, side panels or lighting. Everything is available to provide residents with a little more comfort and to create a true home extension.