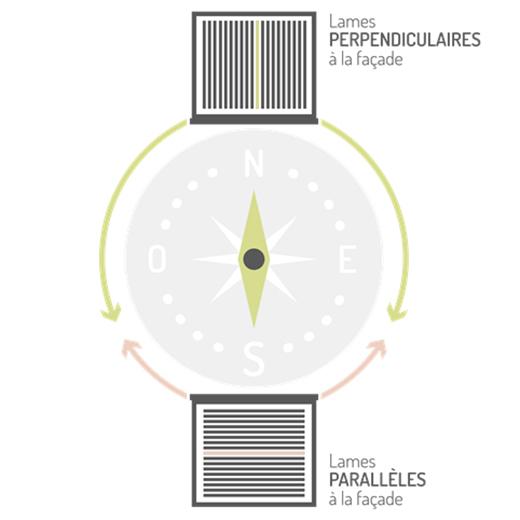 With a south-facing pergola, you'll be able to make the most of the sunshine in winter. On the other hand, the temperatures in some of our regions are less suited to the use of a pergola. If you opt for a fixed roof pergola, these questions are irrelevant. On the other hand, both in summer and winter, if you decide on a bioclimatic pergola, we suggest you equip it with a glazed roof overhang that will ensure you do not lose any daylight in your house. As for daylight, the direction of the slats of your bioclimatic pergola is not important. It's the width of your pergola that will guide you. In general, pergola slats do not exceed 4.5 m. Over 4.5 m, you must choose slats that are perpendicular to your wall.
Northern exposure
If your patio is essentially oriented to the north, there will be less exposure to sunlight. Nevertheless, the pergola will have the advantage of protecting your patio from excess sunlight in summer, and if you choose side protections like blinds for picture windows, the pergola will become a cocoon that protects you from the north wind or an unexpected shower. As for daylight, northern exposure will certainly require you open your roof more to the daylight with a glass or polycarbonate roof, a glazed roof overhang for bioclimatic pergolas and LED lighting integrated into the louvres. All these options will make your pergola a place for outdoor comfort.
How do you orient the slats of your bioclimatic pergola?
It is often a purely technical choice! Many manufacturers will give one theory or another that comes from who knows where and will, like mathematicians, explain that according to the orientation of the sun and the wind direction, it is better to choose a parallel or a perpendicular slat orientation. No study has ever revealed that there is greater loss of sunlight in one direction or another! What is sure is that the aluminium slats, regardless of the direction in which they are oriented, create a barrier against the daylight that could enter your house. It has been estimated that there is a 20 to 30% loss of daylight in the adjacent room. That is why we recommend you choose a mixed glazed and louvred roof. A glazed roof at the entrance to your house and louvres with an opening of up to 135° to cover the rest of the patio and to regulate the light as your please. Why should you have to choose between shade and sunlight, between summer and winter... there are solutions that reconcile them all. AKENA's advisers are trained to advise you on your project. They are available to study with you the most adapted response to meet your needs. Contact us! Our quotes are free of charge and carry no obligation.
Retrouvez nos autres conseils
Aucun résultat ne correspond à votre recherche