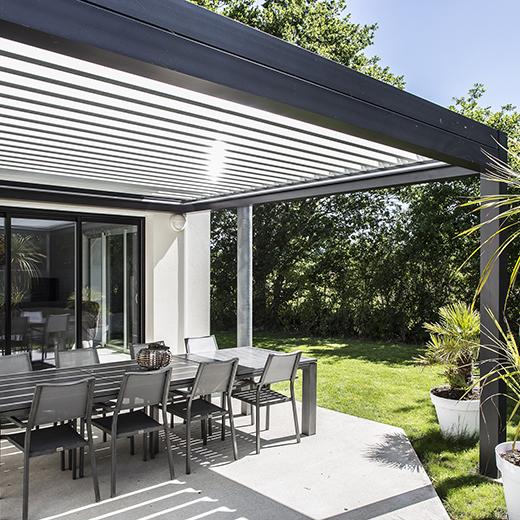 Fitted with two supporting posts, aluminium wall-mounted pergolas are a true extension to the indoor area of your home. The sleek style, functionality and the properties of the material provide this type of structure with many advantages. Why should you consider installing this type of pergola on your patio?
The aluminium wall-mounted pergola: modular and practical installation for all patios 
The aluminium wall-mounted pergola distinguishes itself by a structure that adapts to any type of architecture. Installed against a wall of your house, it creates a natural extension while protecting your patio. You can thus enjoy the benefit of your exterior spaces longer during the year. It will protect you against bad weather, such as wind, rain or even the sun's rays. An easy-to-use adjustable louvre roof enables you to modulate the degree of daylight under your pergola. Certain models of pergola also offer fixed or retractable roofs to adapt to any situation and weather conditions. Good to know: the choice of a bespoke solution does not influence the ground coverage. You will thus preserve your space to be able to equip it to your taste.
What are the advantages of a bespoke installation?
A wall-mounted aluminium pergola has one non-negligible advantage: its durability. Indeed, the use of aluminium ensures the excellent longevity of the structure. Its integrity and aspect are preserved, including during wet and intensely cold seasons. The material is unalterable and requires little maintenance. Moreover, a wall-mounted model offers greater stability and resists strong gusts of wind. By choosing a bespoke installation, you benefit from a modular and durable solution for your project. The bespoke concept takes on its full meaning with the choice of the dimensions, the type of roof and even the addition of automated equipment or accessories. Its presence creates non-negligible added value for your property.
Retrouvez nos autres conseils
Aucun résultat ne correspond à votre recherche