Who has never heard of a pergola, conservatory or loggia? Increasingly popular, these new living areas offer real added value to your property. Is your heart set on enhancing your exterior and creating a oasis of peace? If you are wondering why you should buy a pergola, let us guide you for a unique, top-end solution.
Buying a pergola: the advantages
Flawless durability
For a modern and entirely customisable pergola, choose a powder-coated aluminium structure. This type of pergola is unaffected by rust and bad weather. Durable and easy to maintain, they should be preferred to wood or PVC pergolas. A sponge and soapy water twice a year is all it takes to maintain an aluminium pergola!
A compromise between an awning and a conservatory
An awning is a motorised or manual cover that stretches over a patio to create shade. A conservatory, also know as "veranda" is an extra living area, essentially consisting of picture windows, which can be lived in year-round. Click here to see our models of verandas.
A pergola has the advantage of protecting you against bad weather while remaining open on the exterior. You can thus enjoy your garden in any season. And thanks to its many options, you can appreciate the cool of winter or the gentle night air pleasantly installed in your haven of peace. Summer heat can also be controlled.
Unique customisation
When a pergola is installed to measure, it becomes unique. The shape, size and the options are adjustable and can adapt to the style of your home. You can even build a pergola with a double-module configuration, to obtain even more sheltered space!
Here is a non-exhaustive list of optional equipment:
different colours
LED lighting
skylights
fixed or adjustable louvred roof (bioclimatic pergola)
glazed, polycarbonate or aluminium roof
opening roof
motorised blinds
sunshades
picture windows
heating
...
The characteristics of different types of pergolas
Modern pergolas have little in common with those of the past. They are functional, economical and upgradable. They can be used year-round, regardless of the weather.
The main characteristics of pergolas according to their type:
the wall-mounted pergola: this type of pergola possesses two posts and is fixed to the wall of the house. It becomes a true home extension.
the freestanding or self-supported pergola: a pergola standing on 4 posts. It has the advantage that it can be installed wherever you please, on the patio or in your garden.
the bioclimatic pergola: the latest arrival on the market, its particularity lies in its roof. It possesses adjustable louvres that enable you to regulate ventilation and summer heat and to preserve daylight. The bioclimatic pergola can be wall-mounted or freestanding.
the hanging pergola: less common that its cousins, the hanging pergola by definition has no posts or pillars. Designed for small spaces, it is often of smaller size. Even though they are practical and sturdy, a load test for the supporting wall is essential.
the upgradable pergola; if you have the necessary space and you are hesitating between a pergola and a veranda, choose an upgradable pergola. Essentially built of aluminium, it consists of a fixed roof based on a veranda roof. Of course, options are available. They are called upgradable because it is possible to close the openings thanks to the installation of glazed frames. And your pergola is transformed into a conservatory or a winter garden!
A few of our bioclimatic pergolas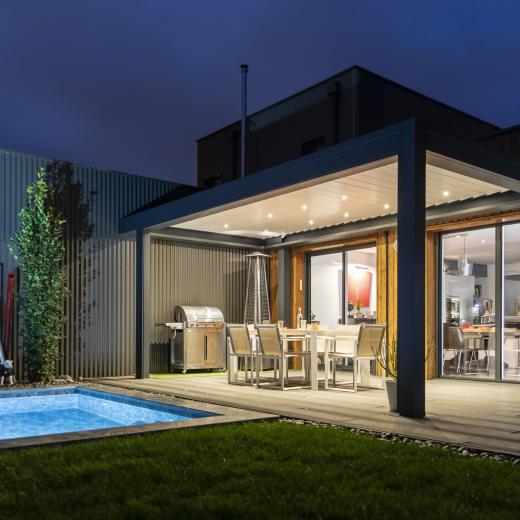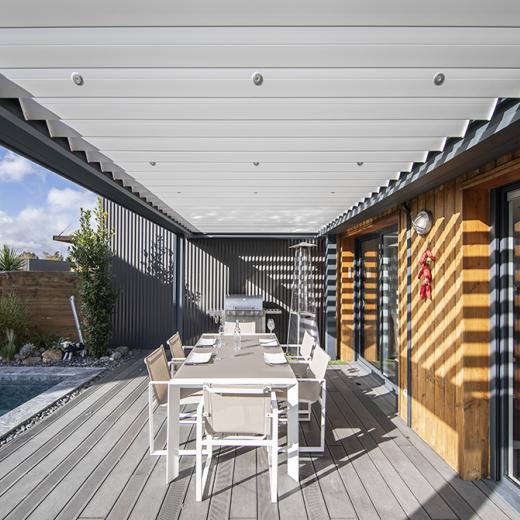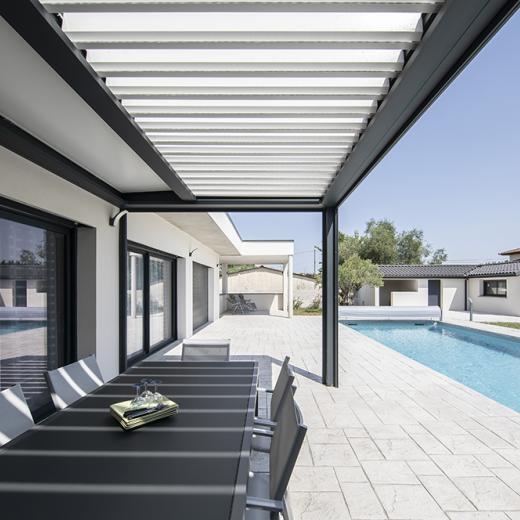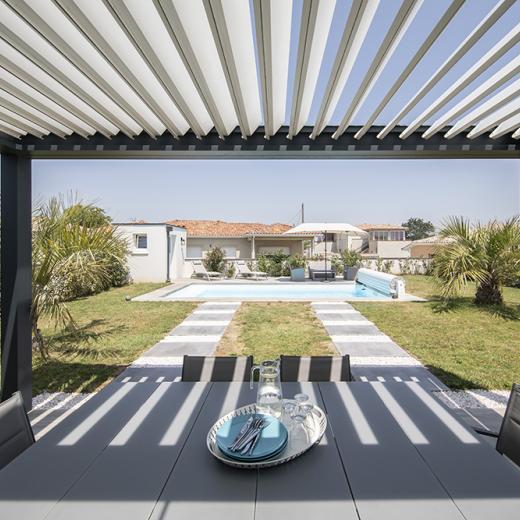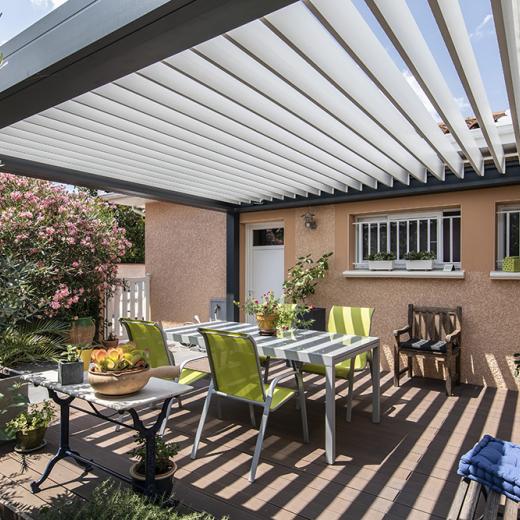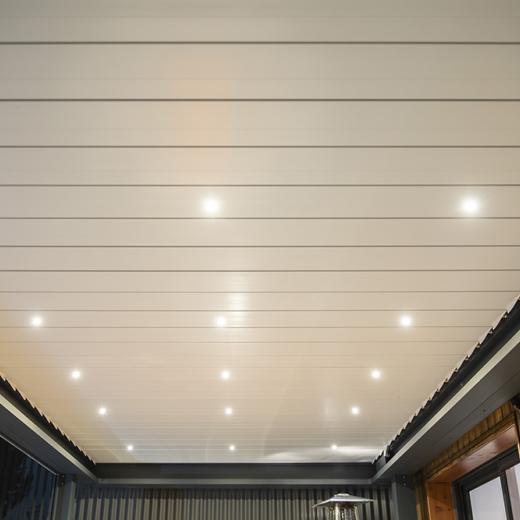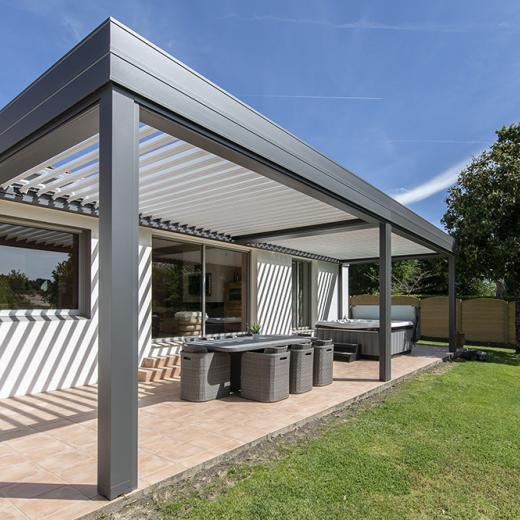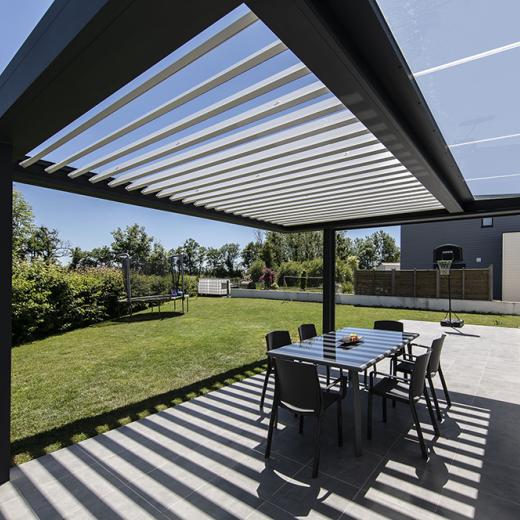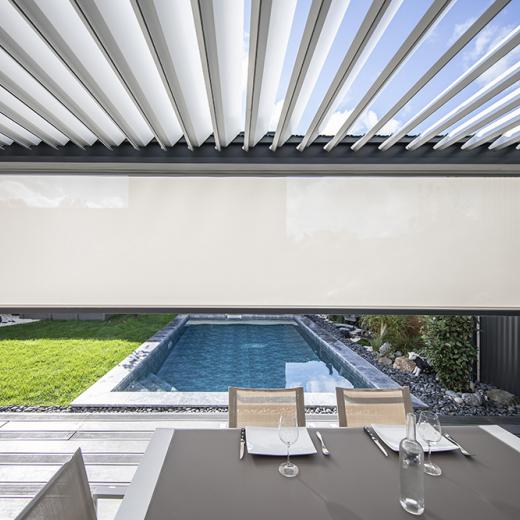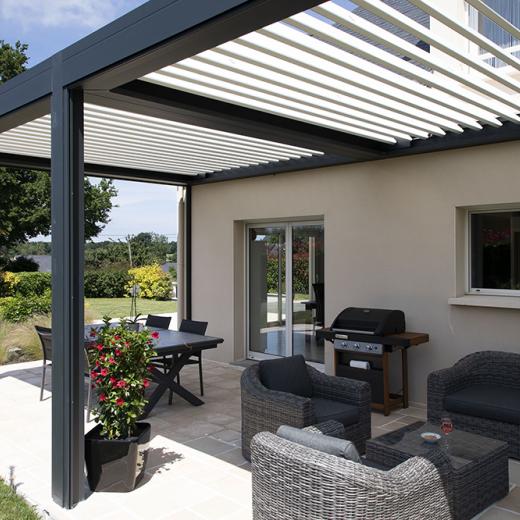 Retrouvez nos autres conseils
Aucun résultat ne correspond à votre recherche