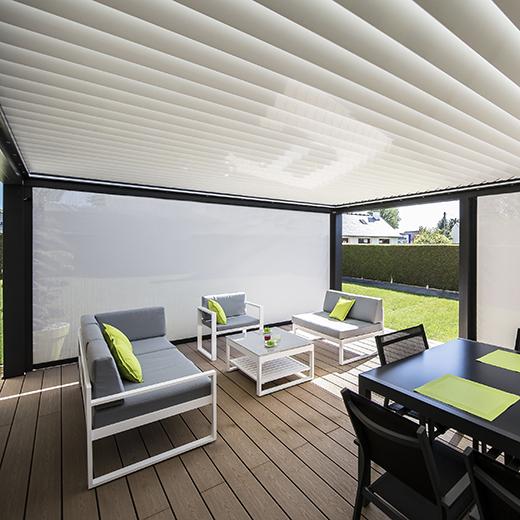 You will be spoilt for choice to cover your pergola. Adjustable louvres, rigid covers, canvas or even polycarbonate panels: each solution offers its advantages. Follow the guide to find out which really suits your needs!
What are the different covering materials for pergolas?
When choosing a cover for your pergola, there is one main question: which material should you choose? It is essential to choose a solution that is adapted to your needs, budget and constraints.
Adjustable louvres: this system enables you to modulate light like a Venetian blind. Also called a bioclimatic pergola, this installation consists of several slats that can be opened or closed (partially or totally) according to the intensity of the sunlight.
Canvas: the easiest solution is to install a cotton, hemp, linen or polyester canvas. However, in addition to being fragile, this type of pergola canopy is not very flexible. That is why you can opt for a folding canvas canopy, which, as its name suggests, will enable you to open and close the roof according to the amount of sunlight you require.
Rigid covers: by choosing a rigid cover, you benefit from better rain protection. Mid-way between a veranda and a pergola, this type of permanent installation creates a solid and fixed structure. The cover can consist of polycarbonate, polyester or PVC panels.
Adjustable louvres for bioclimatic pergolas
Adjustable louvres for bioclimatic pergolas are the best solution to enable you to manage the sunlight in your pergola. You can thus create shade when there is too much sun or benefit from maximum sunlight when you want it.
Often made of aluminium for maximum durability, once these louvres are closed they ensure the total insulation of the pergola. Rainwater is blocked like for a classic roof.
There are different types of closing systems for bioclimatic pergolas:
The orientation of the louvres is performed manually via a handle-operated system (you must therefore be on site to be able to change it).
Changes to the orientation of the louvres are made via a motor and remote control for greater comfort.
The louvres of the pergola are fitted with an internal sensor, like a weather station for example, and they close automatically in rainy weather.
In addition to increased comfort under the pergola, the bioclimatic system enables you to benefit from regulated sunlight in the adjoining room if the pergola mounted against the house. This has an influence on energy expenditure and can generate well-appreciated savings.
What are the advantages of an aluminium pergola cover?
Despite the advantages of each solution, aluminium proves to be the most versatile pergola covering material. In addition to being inalterable, it is hard-wearing and durable. In contrast to canvas or wrought iron (for the framework), aluminium is weather resistant, rustproof and requires little maintenance. In addition to being durable, an aluminium pergola provides guaranteed aesthetics.  Offering a modern appearance, this material enables you to enjoy a sleek and airy design, especially in the case of a louvred installation. Moreover, this equipment comes in numerous colours, tints and shapes.
Don't hesitate to contact us to talk about your project.