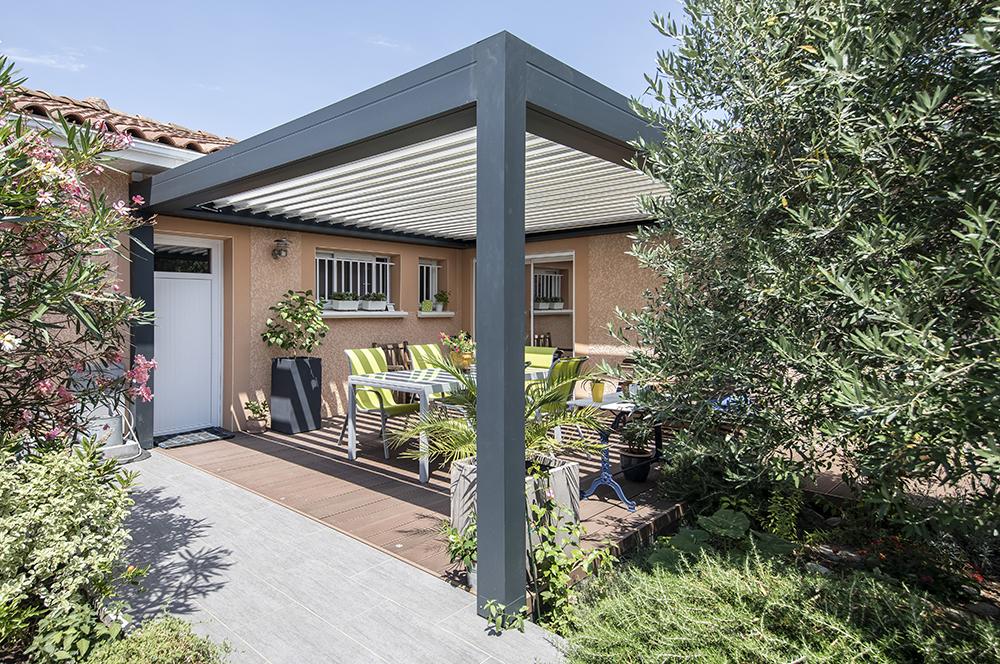 You have decided to install a pergola to provide your garden with shade. You have chosen the location and construction materials and all that remains to be done is to decide on the type of cover. Several options are available if you want to create a green roof. One of them is to grow a climbing vine. Decorative and easy to care for, it is very popular with the owners of houses and pergolas. See which climbing vines to choose!
What exactly is a climbing vine?
The words 'climbing vine' include a series of climbing plants that are more or less related to the grapevine. We can mention the three most well-known: the Vitis, the Ampelopsis and the Parthenocissus. The Vitis is the true grapevine. Its deciduous foliage is green in summer and turns to beautiful shades of orange, red and yellow in autumn and disappears in winter. Despite what is often heard, ornamental vines do not damage the pergola they grow on! The vine wraps around and clings to its support with its small pads at the tips of its tendrils. It nevertheless should be avoided on paintwork and pebbledash.
The Parthenocissus or Virginia creeper, the most well known
Robust and very decorative, this vine is native to North America and Asia. It clings to its support thanks to its tendrils and adhesive pads. Its leaves take on a beautiful purple colour in autumn. To develop and flourish, the Virginia creeper needs a rich and well-drained soil and a little shade. It can reach heights between 7 and 12 metres.
Here are a few interesting varieties for your pergola:
the Parthenocissus tricuspidata atropurpurea – its foliage is burgundy red in summer and its leaves measure 20 cm. This vine resists temperature down to -20 °C. It is ideal for pergolas in quite cold climates;
the Parthenocissus tricuspidata Veitchii is the most popular with persistent leaves measuring 10 cm that are green in summer and purple in winter. It is easy to care for and yields dark, non-edible fruit in summer that enhance its decorative aspect;
the Parthenocissus henryana (Chinese Virginia Creeper) comes to us from China. It will develop rapidly in have a rich, clayey soil;
the Star Shower Parthenocissus quinquefolia is also known as the 'variegated Virginia creeper'. It is called variegated because its foliage offers a pretty mixture of white, pink, green and red colours. Its deciduous leaves measure between 8 and 20 cm and are suitable for all exposures. It grows very quickly;
the Parthenocissus quinquefolia Engelmannii is a climbing plant with a fine, persistent foliage. Very common in Canada and North America, it resists temperatures down to -25 °C.
Vitis, the true ornamental vine
Also grown for its grapes, the Vitis vine is very decorative. Its tendrils will enable it to easily cling to your pergola. There are several varieties of true Vitis vines. Most of them are native to Asia and measure between 6 and 12 metres at maturity. They yield very dark or black non-edible fruit. Vitis requires a sunny and slightly shaded climate. The most well-known of these ornamental vines is the Vitis Coignetiae (or crimson glory vine). It has received the Award of Garden Merit from the Royal Horticulture Society. Like all grapevines, it is a member of the Vitaceae family. Common in cold and wet regions, it resists temperatures down to -15 °C. Its leaves turn from light green to red in winter. It will gently spread over the pergola and cover the posts as well as the roof.
Berry vines: the Ampelopsis
With a smaller spread than its cousins, the Ampelopsis climbing vine has the particularity of producing bluish, non-edible berries. This vigorous climber reaches around 5 m at maturity. A hardy and not particularly demanding plant, it can be grown down to -15 °C. Its small green flowers bloom in spring, leaving highly decorative seeds that birds love.
Planting a climbing vine for your pergola
You have chosen the right climber for your pergola. You must now plant it and care for it. Did you know that if it is correctly planted and pruned, a climbing vine can live for 50 years? Ideally, plant your vine when it is dormant, i.e. when its leaves have fallen. But wait for a period with no frost, in November or March. Dig a hole about 40 cm wide next to a post of the pergola and add pebbles for drainage. Place earth at the bottom of the hole. Unpot the vine and delicately separate its roots. Place the plant on the soil, fill the hole with the remaining earth and then tamp down. As climbers grow relatively quickly, you can prune the vine between 5 and 8 eyes from the second year (an eye is a formed bud that has not yet developed). You can tie it in certain places to train it towards the desired place.