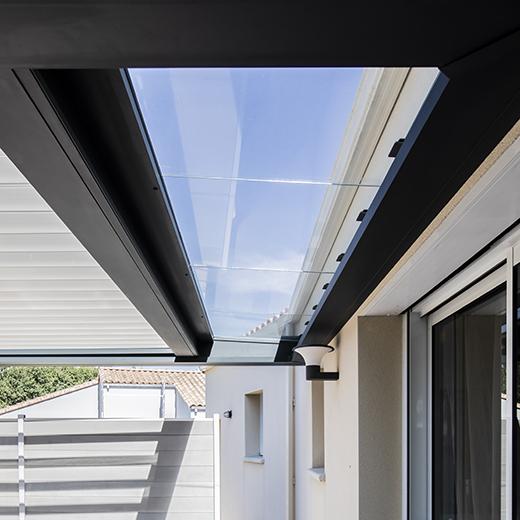 Enhance your pergola with adapted accessories to fully enjoy it year-round. From lighting systems to filtering/blackout blinds and heating, which equipment should you choose for a practical and functional installation?
Lighting and heating: the essential accessories for your pergola
Lighting is an essential accessory for your bioclimatic pergola. Whether in the form of exterior wall lighting or with an integrated LED system under the roof, it enables you to benefit from your exterior space at the end of the day or in the evening. Consider installing pergola heating to enjoy an optimal temperature in your new living area. Mobile elements are available that adapt to the configuration of your areas and enable you to benefit from an effective and economical solution. Suspended or fixed radiant heaters are recognised for creating homogeneous heat without increasing energy consumption. Whatever your choose, you will enjoy your pergola for a longer period during the spring, summer and autumn.
Enjoy your pergola with the installation of adapted equipment
In anticipation of hot weather and heat waves, the installation of a misting system is highly appreciated to cool off the air. Prefer a low-pressure system that fits under the louvres of the pergola or at the edge of the roof to regulate the temperature more effectively. For an open lean-to structure, it is recommended to install a sun blind. Whether it offers total or partial filtering/blackout, this accessory, usually made of texteline, is useful to create a shaded area and to cool the surface of the shelter. It can also serve to block the view. Other accessories for bioclimatic pergolas are available:
mosquito screens;
certified security grilles;
spare slats;
aluminium guttering for pergolas.