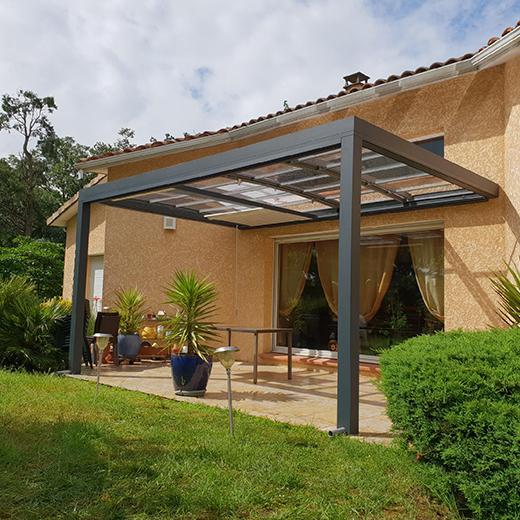 There is only one way to protect your pergola from the elements and the effects of time: regular maintenance. Fortunately, aluminium models are extremely resistant and require minimum day-to-day cleaning.
Pergola protection: why choose an aluminium model?
To ensure your pergola resists the elements, it is important to choose a high quality material. While wood, PVC and wrought iron all offer certain advantages, these are not the most hard-wearing materials. Sensitive to light, rain and wind, they will tend to deteriorate over time, even with regular maintenance. Aluminium models provide optimal pergola protection. Renowned for its durability, this material offers good resistance to the wind, sun and rain. What's more, a simple wipe down with water is usually all that's required to clean the structure and preserve its initial aspect. It only needs to be cleaned in this way twice a year on average.
Our tips for optimal protection of your pergola
In addition to the structure, the pergola's cover also needs to be maintained. Once again, a rigid roof or one with rotatable slats is the best way to cover the patio and provide robust protection from the wind. Canvas is not the best solution in the sense that it is susceptible to tearing or flying off in high winds. As part of your pergola upkeep, don't forget to maintain the guttering. It's important to remove dead leaves and other debris which can block it. Useful tips to guarantee your pergola's lifespan.
How to protect your pergola from the rain?
Your pergola is the ideal structure to provide shelter from the sun's rays, as well as bad weather. To cover a pergola from the rain, a watertight roof is obviously essential. 
Some covers, such as double-glazing, allow natural light to enter while protecting the patio from the rain. Optional components can be added to provide protection from the sun. 
Apart from its aesthetic appeal, polycarbonate is a modern and long-lasting material which combines watertightness and resistance to UV rays. It is translucent so allows a certain amount of light to pass.
Aluminium sandwich panels are made with an insulating foam. Thanks to this roof, you cover your pergola from the rain while providing a certain level of insulation. 
If you're leaning towards a bioclimatic pergola, you'll find that its rotatable aluminium slats are extremely effective against bad weather. They are usually motorised and are controlled by a remote handset. They can also be connected to a weather station, which will do all the work for you!