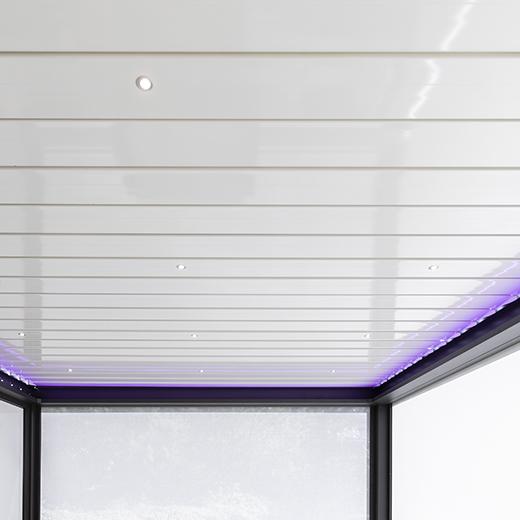 In order to enjoy your outdoor spaces more, it is essential to install a good lighting system for your bioclimatic pergola. Although there are many options in this area, LED lighting is often the preferred choice because of its many advantages.
LED: the best bioclimatic pergola lighting
In order to enjoy your outdoors, even after dark, it is in your interest to install bioclimatic pergola lighting. The most advantageous solution is to opt for LED lighting. This solution uses less energy than a traditional bulb and allows you to enjoy a beautiful light, while saving up to 30% on electricity consumption. Another advantage: LED lighting emits very little heat, which limits the risk of damaging the structure of the bioclimatic pergola. You should also be aware that there are several LED lighting temperatures. You can choose the light intensity that suits you best: low to create an intimate atmosphere, or high to see clearly. It is also worth choosing a bioclimatic pergola light with an adapter. You can then modulate the light intensity according to your wishes and activities: reading, aperitif with friends, relaxing in the moonlight...
Different bioclimatic pergola lighting options
One of the advantages of LED lighting is that it is available in a range of shapes and sizes. You are therefore sure to find the style to suit your bioclimatic pergola:
outdoor wall lamp: fixed to the facade of the house, this lighting is both aesthetic and powerful;
freestanding lamp: this type of lighting allows you to create a cosy atmosphere, and can be placed wherever you want (on the floor, on a table, etc.);
outdoor hanging lamp: fixed directly to the roof of the pergola, this lamp takes up little space and guarantees optimal lighting;
outdoor projector: this lamp enables you to enjoy powerful and localised light.