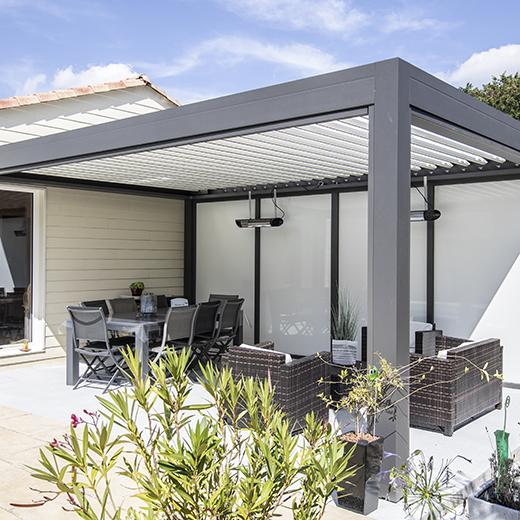 A pergola enables you to make the most of your patio as soon as the weather starts to warm up. However, it's possible to decorate it and add certain optional elements for greater comfort and a more personal touch. How do you equip a pergola? What are some good decoration ideas?
How to equip your pergola according to your wishes and the specifics of its structure.
The open space of a lean-to pergola can stimulate numerous ideas for equipping it.  Among the main criteria to remember when thinking about equipping a pergola, we can mention:
the size of the structure;
the potential for modification: installation of a sun blind or a filtering/blackout blind;
the type of roof: adjustable louvres, rigid or retractable surface;
the ground area available...
How do you decorate a pergola?
These elements enable you to more easily determine the solutions to equip it according to your wishes. It is also possible to decorate it with a Mediterranean, exotic or contemporary inspiration. A floral structure for the posts or a green wall also provide possibilities to create a space that creates continuity with the garden.
Equipping your pergola to create a comfortable and functional space
How do you light a pergola? A roof with adjustable louvres is ideal to modulate the daylight in your shelter according to the time of day and weather conditions. In order to ensure optimum luminosity, it is possible to install suspended, fixed or mobile LED lighting. To transform your pergola into an outdoor lounge, do not hesitate to install furniture that is adapted to outdoor use. Armchairs, a coffee table and chairs can accompany decorative objects as well as a dining table. Here too, everything depends on the configuration of the space and the ground coverage of your new living space.