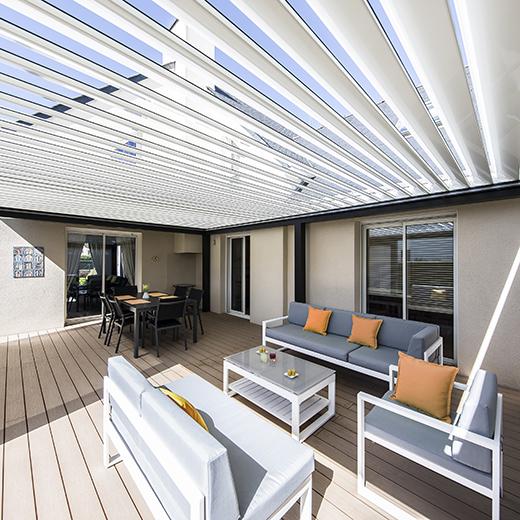 Owners have numerous solutions for accessorising their pergola. Plants, garden furniture and lighting: discover all the different possibilities.
How to fit out a small pergola?
When accessorising a pergola it is important to take into account its surface area. For a small pergola, just a few plants is usually enough. Climbing plants are ideal as they will attach themselves to the trellis as they grow and decorate your outdoor space. If there is enough room, it is also nice to be able to sit out under the pergola. A small garden sofa or even a simple armchair will make the space more inviting and the perfect place to enjoy an aperitif or the sunshine. To free up floor space, don't hesitate to fix elements at a height, such as flower pots or a small shelf which could be used as a garden table.
How to fit out a large pergola?
If you have a large pergola, you are spoilt for choice when it comes to accessorising it. Firstly, you need to choose a set of furniture which will allow you to structure the space. However, avoid fragile furniture, fabric for example, as the pergola is not waterproof. For maximum comfort, you can also add a number of accessories which will make your pergola more practical. Heating, lighting, a misting system, a sunscreen or even side panels to close off the space, are just some of the possibilities for transforming your pergola into a real extension of your home. The best is still to opt for a bioclimatic pergola with rotatable slats so you can control the amount of sunlight you let in.